SEO Process: How You Can Optimize Your Site For Better Organic Traffic in 2022?
Facebook Twitter LinkedIn WhatsApp
Introduction To Step By Step SEO Process.
Search engine optimization (SEO) is the process of getting your website to rank higher in search results. This means that when someone searches for a term, your site appears at the top of their search results. And this is great because it will increase your organic traffic and improve conversion rates. But what are the best practices in SEO? How can you optimize your site for better organic traffic in 2022? In this article, we'll answer these questions and help you understand the SEO process: how it works and what you need to do to rank higher in search engines.
What Does SEO Stand For?
SEO stands for Search Engine Optimization. SEO is the process of improving your website's visibility in search engines. It uses keywords and phrases that are relevant to what you are selling or promoting so that when people search for those terms, your website will come up first.
How Does SEO Work?
The first step for optimizing your site is to understand how SEO works. SEO (search engine optimization) is a process that helps you to improve the visibility of your website in the search engine results pages (SERPs). Google, Bing, Yahoo, and other search engines use algorithms to determine which websites appear at the top of their SERPs for any given keyword or phrase. These algorithms take into account several factors including website authority, relevance, popularity, and quality content among others.
SEO is about making your website more relevant to search engines so that it will rank higher than similar competing websites in search results pages. When people begin typing keywords related to what they are looking for into such search engines as Google or Bing, they expect results that match their intent with some degree of accuracy based on past experience with those same words (and hopefully not too much spam!). In order for your site's content to be found by these users who may become customers/clients/patrons/visitors, there are specific things you must do on an ongoing basis.
How To Optimize Your Site For Maximum Organic Traffic
If you're like most people, this might be the first time you've heard about SEO optimization. In order to optimize your site efficiently and effectively, it's important to understand how websites are ranked on search engines.
The goal of SEO is to get your website higher in Google's search results so that more people can find you when they search for specific terms related to your business or industry. There are many factors involved in optimizing a site for organic traffic, but a few simple tips can help improve performance quickly and easily.
So, I'll go over some of the most important elements of SEO and how you can optimize your site for maximum results.
Work On Your Meta Tags.
Meta Title Tags: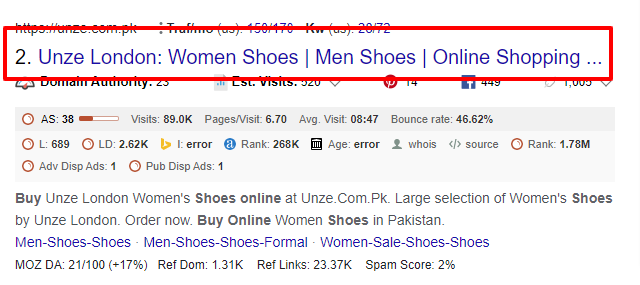 These are the titles that show up in search engine results. They're the first thing people see, and they're often the deciding factor for whether a user clicks in on your site or not. Good titles are important, and the words you use should be carefully selected. Make sure that your main keyword or target keyword appears in the title of a page on your site—but don't overdo it!
Meta Description Tags: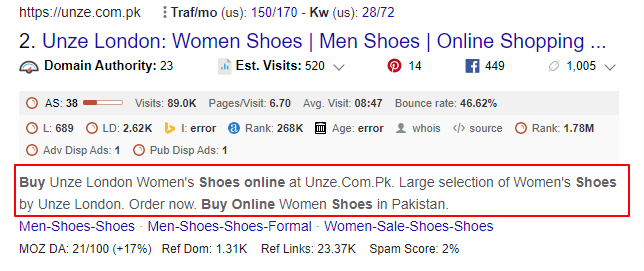 These are the description of your website, and they're the first thing that search engines see. In fact, meta tags are one of the most important parts of your website because they help search engines know what kind of content is on your site so they can rank it accordingly. So it's important you write good meta tags—and not just any old words will do! And make sure, you use your main keyword or target keyword when writing meta descriptions for a specific page on your site.
Create A Sitemap.
A sitemap is a file that lists the pages of your website. Search engines use it to find your pages and make sure they're all indexed, so you should be creating one if you haven't already.
A sitemap can have any name and be hosted on any URL as long as it has a clearly defined structure: one root directory (for example, /sitemap.xml) with multiple subdirectories or files. You can even use XML Sitemaps for WordPress if you want an easy way to create one by installing an SEO plugin like RankMath on your WordPress site.
How To Find An XML Site Map In Rank Math SEO Plugin?
Step 1: Install the RankMath SEO Plugin and activate it.
Step 2: Click on RankMath in your WordPress main dashboard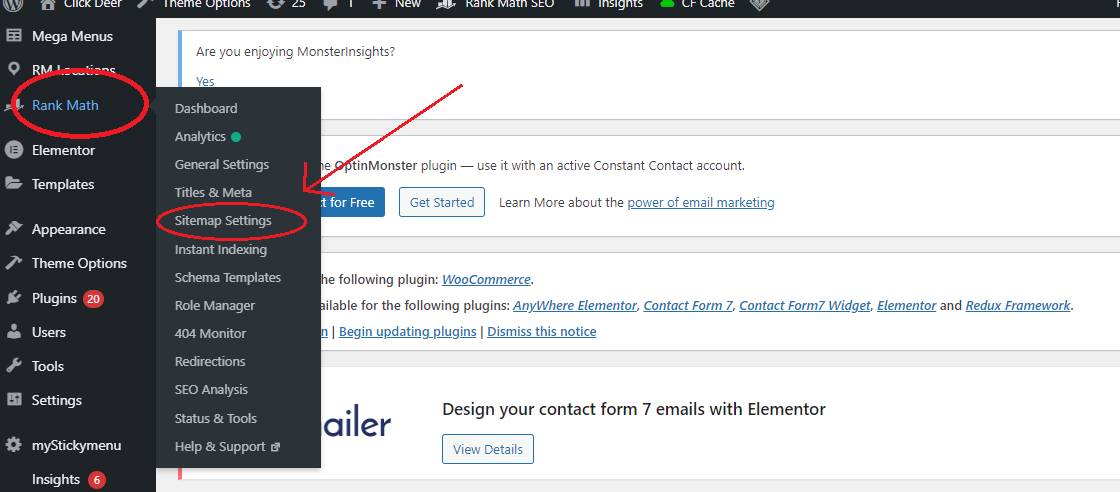 Step 3: Click on sitemap settings

There you go, now simply add this XML site map link to your google search console, and you are done!
Make Sure Your Website Speed Is Up To Par.
Make sure your website speed is up to par.
Speed matters in SEO, and you can't ignore it. Your website needs to load fast and be easy to navigate in order for users to stick around—and if they don't stay on the site, they won't buy anything. Slow page loading times are a huge problem for both mobile devices and desktop computers that have slower connections. To measure and improve your website performance, use Google page speed insights

Once you've figured out what needs fixing on your site, there are several ways to speed it up. First of all, make sure your images have the correct file extension (such as .png for PNG format). Next, compress any large images so that they're not taking up too much space on your server. If you're using WordPress, try reducing the number of plugins you have installed or switching to a faster theme. additionally, you can forward this report to your web developer and your developer knows better than you when it comes to technical SEO.
On-page SEO Elements To Focus On.
Optimize Your Web Page Headings:
The heading of your page is the first thing that a visitor sees on your web page. It should be clear and descriptive, including keywords that are relevant to what you have written in body text. In addition, don't forget to use H1 tags when appropriate—you can do this once per page, but it's not necessary if all subheadings contain different variations of keywords you want to rank for or focus on.
Use Image Alt Tags Properly:
Alt tags are the text that appears when an image can't load properly on a page. They should include your keywords and phrases, as well as related information about the image itself. This helps search engines index the content of your images and determine how relevant they are to what you have written in body text.
Use Your Main Keywords In URLs :
URLs are the web address of a page, such as https://www.yourdomain.com/about-us/. It's important to include your main keyword or phrase in this part of your URL because it will help search engines determine what your site is about. This is also an easy way to ensure that users can find your content easily when sharing on social media platforms, which often require short link formats.
Keep Your URLs Short And Concise:
Long URLs can be hard to read and remember, which is why it's important to keep them short and simple. This also helps ensure that they are easy for search engines to index and determine what your page is about.
Split Your Webpage Content by Adding graphics like Videos/Images:
Adding videos and images to your website can help break up long pages of content and make them more visually appealing. This can also help people find what they're looking for faster, which can increase the chances that they will stay on your site longer.
Do Proper Internal Linking:
Internal linking is when you link to another page on your website from within the current one. This can help search engines determine what your site is about and what pages are most important, which can help improve your rankings. It's also a great way to help users find what they are looking for on your site. You can do this by using anchor text and link text within your content, which will tell search engines what each page is about when it shows up in their results.
Keyword Research And Optimization
Keyword research and optimization is a vital part of any SEO campaign, and it has been for a long time. It's one of the most important parts of your site because it tells you what people are searching for on search engines. Without keyword research, you won't know what keywords to target in order to optimize your site for organic traffic.
The importance of keyword research cannot be overstated. It's the foundation from which all other aspects of search engine optimization stem from – creating content, building links, optimizing images, etc.
There are Four types of keywords:
1) Information Keywords
Information keywords are what people use to find information about a subject. These are the most common and can be used to target any audience.
2) Navigational Keywords
Navigational keywords are broad terms that people use when they are looking for specific pages on your website, like an "about us" page or a contact form.
3) Transactional Keywords
Transactional keywords are specific terms that people use when they want to buy something, like "women's running shoes.
4)Commercial keywords
Commercial keyphrases are search queries that reveal a searcher's interest in distinctive products or services.
So, now you know, the intent behind each kind of these keywords, You have to decide what kind of keywords are best suited for blog posts, and which keywords are perfect for your product pages, I would personally recommend using commercial keywords for your blog posts and transactional for product pages.
but the important thing to know here is that you should know the keyword intent very well. let's take a look at 2 example keywords
1) Buy cake online
2) How to bake a cake at home?
So the first one is transactional keywords which ou you should use on your product page ( may be cake) and the second is informational keywords, which you should be using in your blog post, just to provide information on "how to bake a cake at home" that's it.
Increase Your Website Authority By Building Backlinks.
A backlink is a link on another website that points to your own. It's one of the most important ranking factors for Google and other search engines. The more high-quality backlinks you have, the better your rankings will be. That's why it's so important to build links on websites relevant to yours — they can help drive traffic and boost your search engine rankings.
How To Build More Backlinks?
There are several ways to build backlinks. One of the most effective is by creating content that's useful to other people. When you create a piece of content that delivers value, other websites will want to share it with their readers — so they include a link back to your site in return. Here is list of few ways, you can use to build more backlinks.
Get backlinks naturally:
One of the best ways to build backlinks is by creating content that's useful for other people. When you create a piece of content that delivers value, other websites will want to share it with their readers — so they include a link back to your site in return.
Do guest posting:
Guest posting can be a great way to build backlinks. Sites that accept guest posts tend to have high authority, which means they're a good place to get some powerful backlinks. Just make sure you don't try too hard with your pitch — focus on providing genuinely useful content instead.
Find out resource pages:
Some websites have "resource pages" where they list useful links to other sites. Search for these pages on Google and see if you can find one that includes a link to your website. If not, reach out directly to the people who run the site — they might be more likely to add your link once they hear what you have to offer.
Find out broken links on other sites pitch yourself as a substitute:
Find a list of broken links on another site and then reach out to the webmaster. If they have a link that's no longer working, but still want to keep it in their resource page, suggest that you replace it with one of your own. This is especially effective if you already have a similar resource page on your website — then all you need to do is swap out one link for another.
Publish Research studies in your niche :
Research studies are a great way to get links. You can pitch your study to other sites, or submit it to niche-specific directories. If the research is relevant enough, then you may even be able to get coverage in some of the bigger publications in your industry (like Huffington Post).
Use skyscraper technique:
The skyscraper technique is a great way to get links. It was originally developed by Brian Dean and has been refined by many other SEOs since then. Basically, you write an epic resource guide that's longer than most people would expect (like 5k words). This helps you stand out from the crowd because it shows that your site is authoritative on this topic. When someone links to your guide, they'll include a short snippet of text from within it — which makes it look like they agree with everything in there!
Use HARO to get backlinks:
HARO (Help a Reporter Out) is an email list that connects journalists with sources for their articles. When you sign up, they send you emails with questions from reporters looking for quotes and sources. If you can answer their question, you can submit your response — and it will be published on the site of whoever wrote the article and you have got a sweet backlink too.
Track the results of your SEO efforts with Google Analytics.
One of the most useful tools available to you is Google Analytics. It's probably the most popular and widely used web analytics software in the world, and it will help you measure and track the performance of your SEO efforts. You can see how much traffic has been driven to your site by organic search, social media, paid search (PPC) campaigns and other channels. This data can help you optimize your site for better organic traffic in 2022!
SEO can boost your organic traffic and improve conversion rates, but only if you follow best practice guidelines.
SEO can boost your organic traffic and improve conversion rates, but only if you follow best practice guidelines.
It's important to understand that SEO is not a one-off activity, but a continuous process that requires constant monitoring and adjustments. You need to be aware of the latest changes in Google's algorithm and ensure that your website is up-to-date with all the latest best practices.
Conclusion
I hope this article has helped you understand the basics of SEO and how you can use it to boost your website's organic traffic. Remember that it's an ongoing process, so don't expect overnight results. With patience (and maybe a few tweaks here and there), though, I think you can make some pretty significant improvements to the way people find you online!